Meicheng CMX-12 high definition HD/SD digital AV Mixer
Video Effects HD/SD Digital AV Mixer CMX-12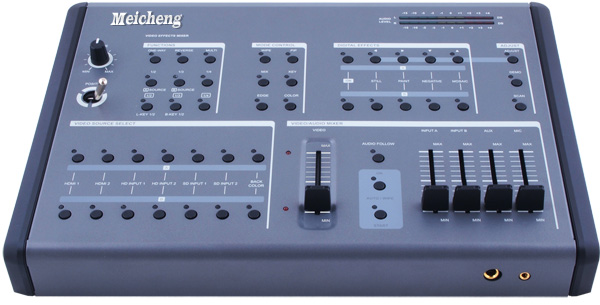 ---
| | |
| --- | --- |
| | CMX-12 high definition HD/SD digital AV Mixer MV : |
---
| | |
| --- | --- |
| | Applications : |
CMX-12 is a high definition digital AV Mixer, which is a simple type of HD/SD Video Mixer Editor to switch and effects. Each input BUS supports 6 inputs (2 x HDMI, 2 x Component, 2 x S-Video and Composite video) and also Background Color for special effect. The output supports 1 x HDMI, 2 x Component, 2 x S-Video and Composite video, CMX-12 HD AV Mixer also supports position adjustment and recording. The output supports HD/SD resolution for example, NTSC, NTSC-4.43, PAL, PAL-M, PAN-N, SECAM, 480p, 576p, 720p 50/60, 1080i 50/60. The output can automatically adjust to consistency resolution, please refer to the diagram on the right side.

| | |
| --- | --- |
| | 96 Wipe Patterns : |
| | |
| --- | --- |
| | Features: |
| | |
| --- | --- |
| · Selective size and position for digital effects area and PIP. | · 1 HDMI recording outputs. |
| · Automatic fade and wipe with speed preset control. | · 2 Component recording outputs. |
| · Digital effects- Still, Mosaic, Paint, Negative. | · 1 Composite Video / S-Video recording output. |
| · 96 wipe patterns. | · 1 Composite Video / S-Video monitoring output (OSD). |
| · Chroma key & Luminance key. | · Auxiliary audio input. |
| · High Picture Quality. | · Microphone input / headphone output. |
| · 3x8 back color.(3 frames,8 colors). | · Picture in Picture control. (3 window sizes) |
| · Joystick control for digital effect position. | · Each A/B BUS can adjust independently. |
| · Fade control for Video and Audio. | · Supports Lip-Sync delay up to 170ms. |
| · Video and Audio mixing. | · Motion and Edge Adaptive De-interlacing. |
| · 2 HDMI / Component / Composite Video/S-Video inputs. | · Composite supports 3D comb filter and YC separation. |
| | |
| --- | --- |
| | Specifications: |
Source Input

HDMI Input: x2 Digital Video YUV (480i/p ,576i/p , 720p50/60 , 1080i50/60)
Component Input: x2 Analog Video YUV (480i/p , 576i/p , 720p50/60 , 1080i50/60).

| | |
| --- | --- |
| Y/C input: x2 Y signal: | 1.0 Vp-p 75Ω , Mini Din 4-pin connector |
| | C signal: 0.3 Vp-p 75Ω , Mini Din 4-pin connector |

| | |
| --- | --- |
| Video input: | x2 1.0 Vp-p 75Ω composite signal , Pin-Jack |
| | (NTSC , NTSC4.43 , PAL , PAL-M , PAL-N , SECAM) |

| | |
| --- | --- |
| Audio input: | x4 -6 dBs/20 kΩ Pin Jack (L/R). |

External Sound Input

| | |
| --- | --- |
| | MIC input: x1 (MIC) ; -60 dBv/600Ω. |
| | AUX input: x1 (AUX) ; -6 dBs/20 kΩ , Pin Jacks(L/R). |

Recording Output

HDMI Output: x1 Digital Video YUV (480i/p , 576i/p , 720p50/60 , 1080i50/60).
Component Output: x2 Analog Video YUV (480i/p , 576i/p , 720p50/60 , 1080i50/60)

| | |
| --- | --- |
| Y/C Output: x1 Y signal: | 1.0 Vp-p 75Ω , Mini Din 4-pin connector |
| | C signal: 0.3 Vp-p 75Ω , Mini Din 4-pin connector |

| | |
| --- | --- |
| Video Output: | x1 1.0 Vp-p 75Ω composite signal , Pin-Jack |
| | (NTSC , NTSC4.43 , PAL , PAL-M , PAL-N , SECAM) |

| | |
| --- | --- |
| Audio Output: | x2 -6 dBs/20 kΩ Pin Jack (L/R). |

Preview Output (OSD)

| | |
| --- | --- |
| Y/C Output: x1 Y signal: | Y/C Output: x1 Y signal: 1.0 Vp-p 75Ω , Mini Din 4-pin connector |
| | C signal: 0.3 Vp-p 75Ω , Mini Din 4-pin connector |

| | |
| --- | --- |
| Video Output: | x1 1.0 Vp-p 75Ω composite signal , Pin-Jack |
| | (NTSC , NTSC4.43 , PAL , PAL-M , PAL-N , SECAM) |

Headphone Output

| | |
| --- | --- |
| | 1x (Headphone); -20 dBv~ -80 dBv, 3.5 mm phone jack |

Effects

| | |
| --- | --- |
| Video: | Still, Mosaic , Paint , Negative , Wipe, Mix, Fade , Picture-In-Picture , Chroma key , Luminance key |

Back Color 3x8

| | |
| --- | --- |
| | 3 frames, 8 colors |

Wipe Patterns

| | |
| --- | --- |
| | 96 patterns |

S/N (Typical)

| | |
| --- | --- |
| | Video: 48 dB (composite) , 50 dB (HDMI ,Component ,Y/C) ; Audio: 60 dB |

Power Source

| | |
| --- | --- |
| | 12V DC 3A , Approx. 15W |

Power Consumption

| | |
| --- | --- |
| | Approx. 15W |

Dimensions/ Weight

| | |
| --- | --- |
| | 267(W) X 370(D) X 103.5(H) mm , / 2Kgs |


Major Operating Controls and Their Functions:
■ POSITION/ TIME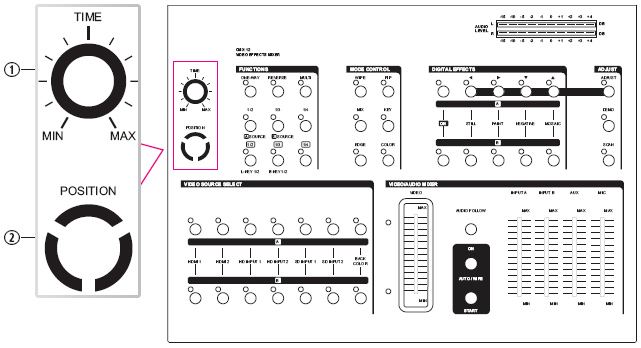 ① Time Control : For adjusting the transition time of Auto Fade function and Auto take function.
② Joystick control : This joystick control has two functions controls the position of the Square wipe pattern and


P-IN-P picture.
---

■ FUNCTIONS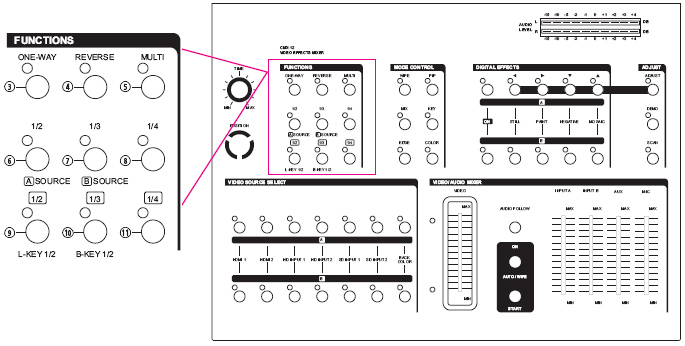 ③ One-way wipe button.
④ Reverse wipe button.
⑤ Multiple wipe button.
⑥ Straight wipe button.
⑦ Split wipe button.
⑧ Corner wipe button.
⑨ Diagonal wipe button.
⑩ Triangle wipe button.
⑪ Square wipe button.
■ MODE CONTROL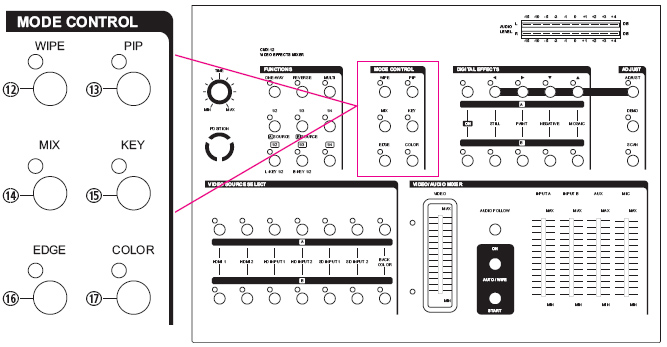 ⑫ Wipe button : For selecting the wipe effect.
⑬ PIP button : Picture in picture mode can be selected by pressing this button.
⑭ Mix(Fade) button : Press this button to select the fade In/Out mode.
⑮ KEY button : This button allows you to tune in a best performance point for the blue key and luma key effects.
⑯ EDGE button : Press WIPE button, can select sharp edge / soft edge or color edge.
⑰ COLOR button : Press color edge, can select eight different color of frame.
---
■ DIGITAL EFFECTS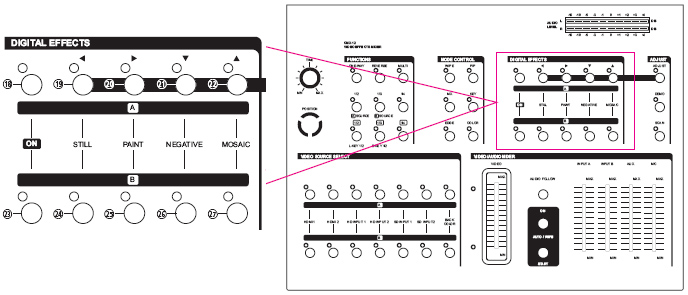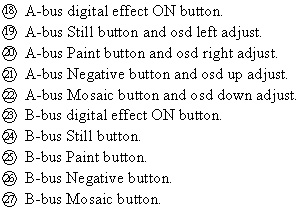 ■ ADJUST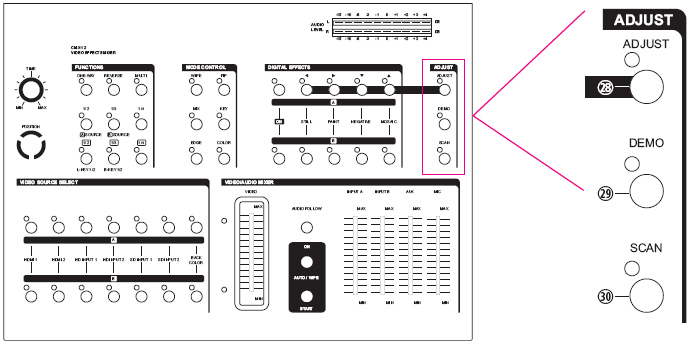 Connector and Installation: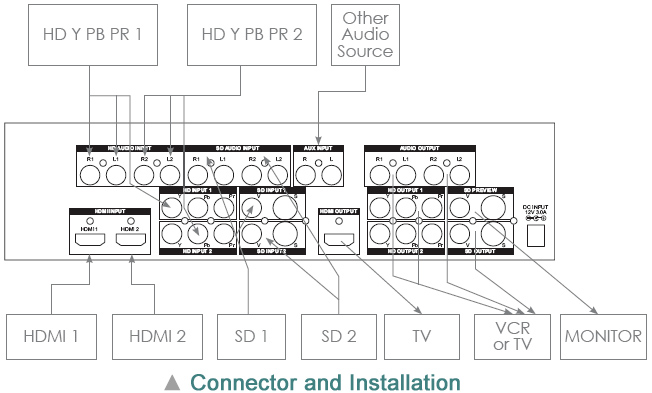 ■ The output can select HD or SD system. Users can use SD PREVIEW to adjust the output system, or a fast way to switch is to press two keys for 1 second in the same time.
---